Winter is coming!
In the winter months the temperatures drop and it snows, it rains, it blows, and it can be downright cold. Even if you don't live in snow country, you may get your share of rain and it can get pretty frigid. In these cold winter months, we get accustomed to the nice warm dry confines of our houses and your dog is in there with you all nice and cozy. You don't go out in the winter without bundling up and slipping on a good pair of winter shoes winter boots to keep your feet toasty and dry. Why should you take your dog out without protecting his feet as well with some good fitting dog winter boots?
There are many different styles of dog snow boots that I'd like to highlight in this thread. You can take a look at alldogboots.com winter booties here: Winter Dog Boots | Dog Snow Boots
My personal favorite boots, and the one's I would pick for Cooper (11 pounds) and Max (16 pounds) are Black and Blue Waterproof Dog
Snow or Rain Boots These booties go on easily and have a 3 step waterproof closure system, consisting of a zipper, velcro and adjustable drawstring closure to ensure dry paws!  They are great for all size dogs however I recommend these for the hard to fit tiny dogs. The 3 step closure system really keeps them on little paws.
I wouldn't necessarily call Cooper and Max glamour dogs. Although I like to call them my little show dogs after they
get baths, I need to be realistic. However, if you've got a little prince or princess, you may want to flaunt some ultra hip dog snow boots. Maybe leopard print? These booties also come in a waterproof blue or pink fabric and have double velcro closure. Leopard Print Waterproof Winter Dog Shoes
For those of you who keep your dog's hair super short and have no time to put boots on the hyper-love, you may want to consider Paws rubber booties.
They slip on super easy, and can be worn multiple times. However, they are made of rubber and you really don't want long hair caught up in them! Pawz Disposable Rubber Dog Boots
For those budget conscious dog owners, you may want to consider Guardian Gear
booties. I'd suggest them for dogs who are at minimum 8 pounds. Not too stylish, not to trendy, but easy to put on and will certainly keep paws dry and frost free. Guardian Gear Dog Boots
For those of you with large breed dogs, or if you don't want to fiddle with zippers or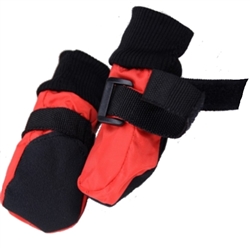 velcro, you may want to consider soft sole dog booties. They have a fleece interior and are made with a soft sole so that your dog can properly feel the ground beneath them. They come in both blue and red. Soft Sole Winter Dog Booties.
O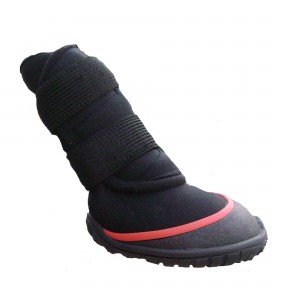 ur Pawtrexx boots are heavy duty, no nonsense winter boots.  Made of neoprene (same material used to make scuba diving suits) they keep your dog well insulated, dry and comfortable.  They go on and off easily and fit the largest breed dogs.
Hi-Toppers are for deep snow!  These boots have a fleece interior and a waterp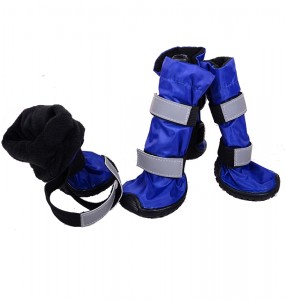 roof nylon exterior, sure to keep paws and legs dry.  Like the Pawtrexx boots, they have a non slip sole that can combat icy driveways and the elastic Velcro will wrap tightly around 2 points on your dog's leg.
And who could forget dog slippers? These are a must have in any paw-wear collection.  Yellow duckies, and pink bunnies are sure to make any dog mommy or daddy smile. Dog Slippers | Animal Slippers for Dogs
If you are wearing boots in the snow, so should your dog. Protect paws from cold, rain, snow and nasty road chemicals.  If you need additional help with sizing or selection please email contact us.