Don't think your dog needs dog boots, shoes, or booties? Think again. While most people believe that dog shoes are just for fun and fashion, there are many legitimate reasons why your dog would benefit by wearing them.
The Great Outdoors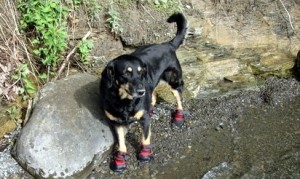 Do you have an active outdoor dog that you take hiking, running, hunting, or biking with you? An ideal approach to protect your dog's paws from outdoor dangers is to use sturdy dog boots made especially for rough outdoor conditions. There are a number of bad things that can happen to a dog's sensitive pads and the areas between them. It is possible that the pads can sustain cuts or even wear out if you take your dog hiking on slippery, rocky mountain trails or sprinting on hard pavement. Dog boots can provide extra protection against all of these hazards.
Health Issues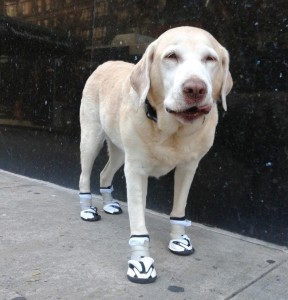 Orthopedic dog boots may help an older dog whose paws and back are starting to show indications of wear and tear or assist a breed of dog that's prone to hip issues. Vets usually advise orthopedic dog shoes for the extra cushioning and support they provide. These dog boots protect the toes from being rubbed raw, especially if you have an older dog that drags his feet when he walks. Making your dog more stable will increase his mobility. Consider trying orthopedic dog boots for a happier, healthier dog.
Summertime Blues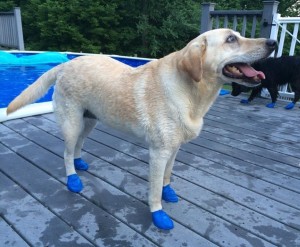 To protect your dog's feet from blazing hot asphalt and cement during summer months, use dog booties. Remembering what it feels like when you go without shoes on the hot sand or pool deck will make you appreciate how the heat might hurt your dog's paws. Lightweight sandals can make his summertime walks much more comfortable, and pool and water shoes help protect pool liners from tears along with providing non-slip protection on wet surfaces.
Winter Chill
In colder months, winter dog booties also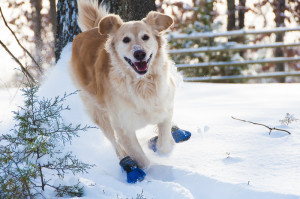 come in handy. Snow can build up in the hair between your dog's paws, and if it turns to ice it can cut the webbing between their toes or scrape those sensitive pads. To shield them from this and also keep them from slipping on the ice, utilize a strong pair of dog shoes with rubber soles.
Housekeeping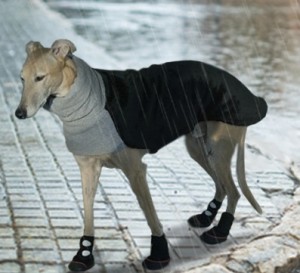 Waterproof rain boots are lifesavers for your scratchable hard floors and floor coverings that aren't easily cleaned. Most dogs don't mind getting wet and don't care if their paws are dirty. They will come bounding into the house after being outside without a moment's hesitation, spreading water and mud around and generally wreaking havoc. Waterproof boots can be removed before your dog comes into the house, saving you from clean-up duty on a rainy day.
Think about the conditions that your dog is routinely exposed to: weather, rough terrain, health issues, old age. Could he use some protective footwear? Put yourself in your dog's shoes and consider trying a pair of boots that would make him happier and more comfortable today.