More than a race to commemorate a desperate measure taken to save residents of Nome, Alaska, from the ravages of diphtheria in 1925, the Iditarod and races like it were established to save a part of Alaskan culture that was starting to disappear. Sled dog races, even the sleds and dogs themselves, had become more and more scarce since the advent of snow-machines, or snowmobiles, in the 1960's.
The Iditarod trail was well established in the early years of Alaska's settlement. In places where there were no roads, or where roads were impassable for much of the year, dog-sleds moved freight. No freight was more critical than the 20-pound package of serum needed to combat the diphtheria outbreak in the remote village of Nome in January, 1925. Teams of mushers and their sled-dogs were set up in a relay across the 674-miles of winter wilderness between the rail-head at Nenana and their destination in Nome. The "Great Race of Mercy" made Balto, the lead dog of the team that ran the last two legs of the race, a hero and a household name in the following years.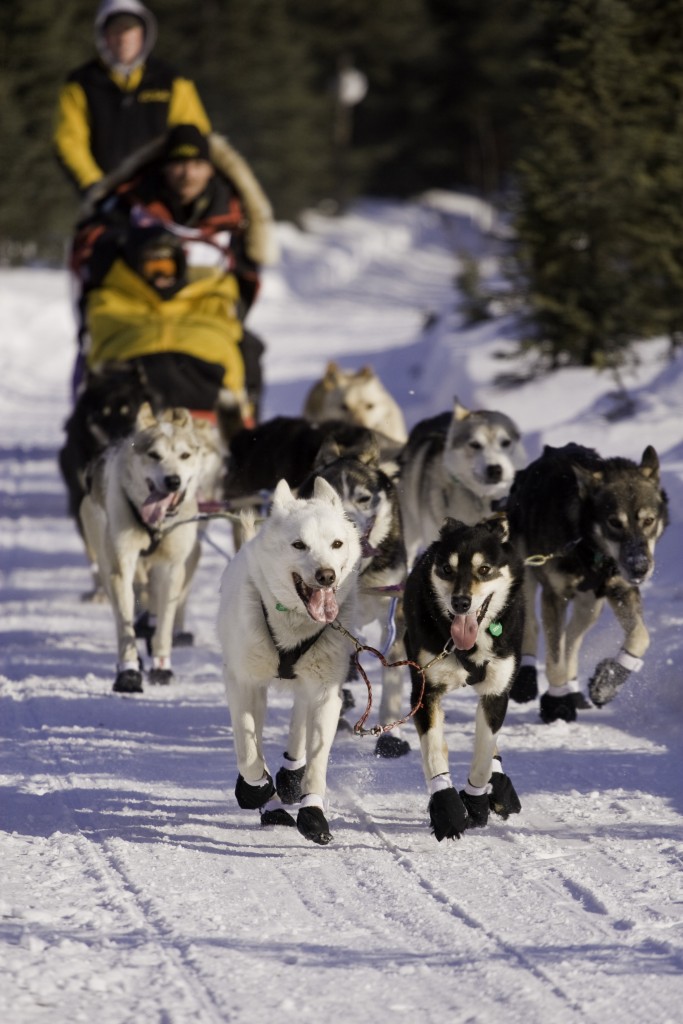 Norwegian born Leonhard Seppala, at the time the country's most famous musher, joined the relay with a 20-dog team led by his Siberian Husky, Togo, a 12-year-old veteran. They made a risky shortcut across frozen Norton Sound in wind-chill conditions that felt like 85 below zero. Although they ran a 91-mile leg of the race with Togo strong in the lead all the way, Balto was the dog that captured the hearts of the nation.
In truth, every dog and every musher that took part in that run is worthy of being memorialized. Every team that competes in the modern Iditarod looks back on that feat for inspiration.
For another 40 years after that, use of sleds pulled by Siberian Huskies, Alaskan Malamutes, and other arctic-adapted dog breeds or mixes continued to be an important way to move freight through the long arctic winters. During World War II, the famed Eskimo Scouts used dog-sleds to patrol vast areas of western Alaska. The appearance of snowmobiles on the scene in the 1960's, however, seemed to doom the mushing way of life to the footnotes of history.
A dedicated handful of enthusiasts worked long and hard to revive the practice of dog-sled races as a more modern sport, and this year's Iditarod is the 43rd running of the competition. In the early years, the race was largely a local event, but its influence soon spread. Thanks to technology and the Internet, fans around the world can now follow the race. Now there are similar races in Canada and Europe.
Sled-dog racing is a sport where women compete on equal terms with men and are equally as likely to win. The race is against time, as well as the other teams, and tests stamina and determination as well as speed. Mushers put in hundreds of hours each year training with their dogs to prepare for the grueling conditions. Each racer has a unique strategy for running the route, as well as a schedule for resting and feeding both dog and human team members.
Race rules dictate that each team must carry a heavy sleeping bag, ax, snowshoes, one pot large enough to boil three gallons of water and enough fuel for the purpose, and two sets of dog boots for each dog. Snow boots are necessary items for the dogs to protect their feet against cuts from razor sharp ice and hard-packed snow. An individual musher may carry more than one spare set of boots for her or his dogs if trail conditions suggest that they may be needed.
Additional gear and supplies required to be carried on the sled are the day's food rations for dogs and musher, along with a certain amount for emergencies, a ground cable for tethering the dogs at rest stops, and a notebook with health information on each dog. The notebook must be presented to be checked by race veterinarians at every staged rest area along the route.
In an age where more and more of us rely on machines to carry us wherever we want to go, the Iditarod stands as an example of our lingering need to challenge ourselves in extremes of weather and terrain. It's also an example of our enduring partnership with our best friends, dogs.