Buying the right toys for your dog helps to ensure that it does not take out its boredom on your furniture or other belongings. Giving your dog something of its own to chew may be the thing that saves your remote control, cell phone or eyeglasses. Knowing what to buy your dog is not always so simple. Here is a break down of some of the toys we think your dog will love based on our own experience.
Kong Toys
The most popular Kong toys are made of solid rubber. This type of material is highly recommended by veterinarians because it is tough enough to withstand chewing, but rubber is not so hard that it will damage your dog's teeth.
Kong has come a long way from offering its traditional beehive-shaped toys to selling toys in a variety of shapes and sizes. The company also colors and labels its toys, making it easy for you to choose the one that will best match your dog's chewing habits. Kong also offers a wide range of balls, bones and sticks covered in tennis ball material.
Busy Buddy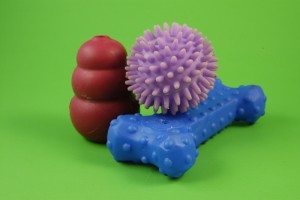 Like Kong, Busy Buddy offers a variety of toys in shapes and sizes your dog will love. Each Busy Buddy toy can be stuffed with treats, making them ideal for dogs that need a bit of mental stimulation. The company makes treat-dispensing toys and ones that can be filled with peanut butter or wet dog food.
Planet Dog
Planet Dog manufactures a line of toys under the name Orbee. You will find balls, bones and ropes in the line. Some of the most popular Orbee toys include Orbee-Tuff Interactive and Orbee Balls. These rubber toys come in scented and unscented varieties, allowing you to choose one perfect for your pooch. The toys come with a money-back guarantee.
Goughnuts
Goughnuts is not necessarily new to the dog toy market, but the company has grown in popularity in recent years. One of the things that customers love about Goughnuts is the company's guarantee. Should your dog reach the red center of the toy, the company will replace it free of charge.
The company has added the patented red center as a safety precaution. If your dog gets to the red area of the toy, the item is no longer safe and needs to be replaced. Goughnuts also lets customers upgrade to a larger toy for a minimal cost if the customer discovers that their dog needs something bigger than anticipated.
Toys to Avoid
According to veterinary professionals, some toys for dogs should be avoided. Any toys made of hard nylon or antler material are not safe for power chewers. Many veterinarians have seen dogs with tooth fractures after being given these toys to play with.
Just Have Fun!
No matter what type of toy you choose for your dog, your animal should always be supervised during play. Accidents can and do happen. If your dog happens to swallow a piece of a toy or the whole thing, you may be in for a hefty vet bill to have the item removed from your animal's gut. Always keep safety in mind when choosing a toy for your favorite canine companion.
Alldogboots.com sells a durable latex squeaky dog toy.  It's a great toy that will keep your small dog having hours of independent fun.