Individuals with disabilities often cannot do many things they would otherwise enjoy or may need special help. One type of special help may be in the form of a service dog. Learn the facts about service dogs, including how they benefit disabled individuals, how they're different from companion dogs and what kind of training these dogs require.
What are Service Dogs?
The U.S. Department of Justice defines service dogs as dogs specifically trained to assist or perform duties for disabled individuals. The type of duties that service dogs perform will depend on the type of disability. Service dogs may be trained to assist individuals with a wide range of disabilities from brain injuries or blindness to breathing disorders and seizures. The disability may be physical, mental, psychiatric or sensory. The tasks the service dog performs may be as complex as leading a blind person or as simple as pressing an elevator button. A list of disabilities can be found on this site.
Is Special Training Required?
The main criteria for a service dog, under the Americans with Disabilities Act(ADA), are that the individual must have a disability and the dog must perform a duty to aid the individual with that particular disability. For this reason, service dogs should not be confused with companion dogs or therapy dogs. Because of the complexity of some of the required duties, special training is required. Although an individual may choose to train his or her own service dog, many people lack the knowledge to train a service and choose to purchase a dog already trained to meet his or her needs. Service dogs can be very expensive to purchase because of all the training.
Laws Regarding Service Dogs
The ADA states that a service dog must be allowed in any place where a human being would be allowed. Even hotels or facilities that have a strict "no pet" policy must allow service dogs because service dogs are not pets. Additionally, when an individual enters a facility with a service dog, the individual is not required to show any documentation. The only questions that may be asked of the dog's owner are if the dog is required because of a disability and what tasks the dog is trained to do. They may not be asked what type of disability they have or any similar questions, or the business o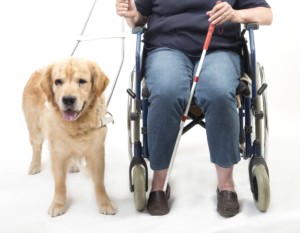 wner in in violation of the ADA laws and subject to fines.
There is no certification required of service dogs. Although not a legal requirement, service dogs often wear special vests stating that they are service dogs because it makes it easier to enter an area with a service dog without the worry about unnecessary questions or potential problems, particularly if it's a place that doesn't allow dogs or animals. The service dog owner also cannot be charged an additional fee for the dog even if that facility charges a fee for pets. The only time a service dog may not be allowed is if the dog is out of control or not housebroken. Although it's rare, some businesses or entities may not allow a "service dog in training".
How People Are Taking Advantage of the Use of Service Dogs
Although service dogs have become lifesavers for disabled individuals and helped make daily routines much easier, they often are scrutinized because of a few that try to take advantage of the service dog laws. Today more people are choosing to have their dogs accompany them when they leave home. It's more convenient and less expensive than paying for boarding. Unfortunately, some try to pawn their dogs off as service dogs just to get them into places where they would not otherwise be allowed.
Some patients go so far as to ask the physicians to write notes stating that they have a disability just so they can get their dog into a public. The unfortunate result is business owners become apprehensive about "service dogs" and may give a truly disabled individual a hard time about his or her dog. What many of these fraudulent individuals don't realize is that they are breaking the law and could be subject to fines or jail time through their state and/or the U.S Department of Justice.
Save