If your dog is like most dogs, he or she probably spends time outdoors either alone or by your side. Does your pal seem to enjoy the outdoors, or does he stand there panting nonstop? The dog might need some protection from the hot weather. If you can imagine spending any time in the hot sun with a heavy coat or walking barefoot on hot concrete, you can imagine what it's like for dogs. Most dogs are affected by hot weather regardless of size or breed, but some are affected more than others. A dog's feet can be extremely sensitive to hot weather. Alldogboots.com offers a great selection of summer wear and booties for your four-legged buddy.
Tips About Buying Dog Booties For Your Dog
Your dog's paws come in contact with almost everything they come in contact with outdoors, whether it's lawn care chemicals, pollutants, sharp gravel or hot summer roads. Dog booties can offer protection for the dog's paws and keep them safe from harmful elements. Your dog may not be too thrilled about wearing boots at first and will probably walk funny at first. However, once the dog gets used to the booties, he or she will barely notice them.
The best way to make the dog as comfortable as soon as possible is to make sure you get the best possible fit. Every manufacturer will provide recommendations on how to measure your dog's feet. Follow these instructions, and you should do fine. Getting the dog the wrong size booties can make the dog uncomfortable or hurt the dog's feet. If the dog is uncomfortable, he or she might not be too willing to wear them or may try to chew them off. When they're a good fit, the "wearing in" period goes quickly, and your dog may come to love them.
Now that you've decided to take the plunge and get your dog summer booties, the next step is choosing the best kind. When choosing dog booties, keep in mind the dog's breed, activity level, size and any health conditions the dog may have. To make it easier, I've listed 5 of the top dog booties for summer.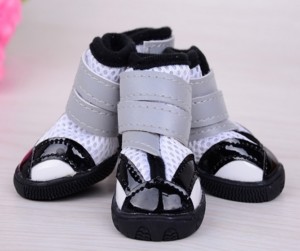 Sporthos summer shoes are made with durable and breathable nylon mesh fabric, ensuring that the dog's feet stay as cool as possible. These indoor/outdoor shoes give your dog's feet extra traction on slippery floors and protection against heat hazards. The white with black trim not only makes them look athletic but also is easier to see at night. They're also ideal for dogs with dragging paws due to degenerative myelopathy, arthritis and paw injuries or just dogs that need additional traction. Additional features of the Sporthos booties include:
• Flexible and comfortable nylon-mess upper with nonslip rubber soles
• Reflective and highly-visible Velcro ankle straps make them great for nighttime walks
• Breathable fabric allows provides comfort for hours
• Come as a set of four
Dog Denim Sandals for Small and Big Dogs
These adorable denim dog sandals, which are available for small and big dogs, are the perfect choice for owners who want their dogs to be comfortable as well as stylish in the summer months. The shoes provide the dog with protection from seasonal allergens that tend to bother a dog's feet, thus eliminating the dog's need to chew their feet. They also offer great protection from the hot concrete, which can be very painful for dogs. Whether you're walking your dog at the beach or playing in the park, the dog will be both comfortable and stylish. Other features of these sandals include:
• Perfectly molded navy blue denim upper
• Durable yet very lightweight for ultimate summer comfort
• Adjustable Velcro ankle strap allows for a secure fit and easy on/off
• Gripped non-slip rubber soles are extremely flexible
• Come as a set of four
Meshies and Mini Meshies by Barko Booties
The Meshies booties, which are available for small and large dogs, are as simple to use as they are comfortable and stylish. Mini Meshies come in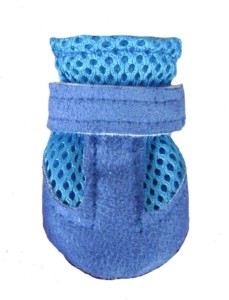 pink or blue and are for dogs under 20 pounds, while the Meshies come in red or blue. These offer dogs great protection against the hot pavement as well as other warm-weather seasonal irritants. Owners whose dogs have recently had surgery find these shoes the perfect solution against chewing or scratching. The Meshies also provide the dog with excellent traction on hardwood or slippery floors. They're perfect for older arthritic dogs who tend to slip easier. Other features of the Meshies and Mini Meshies include:
• Made with faux suede and lightweight mesh
• Very easy on/off
• Breathable mesh fabric offer great summer protection
• Velcro strap and ribbed knit cuff keeps booties snug and comfortable
• Sole is made with soft fabric that allows large range of motion.
• Secure non-skid sole
• Come as a set of four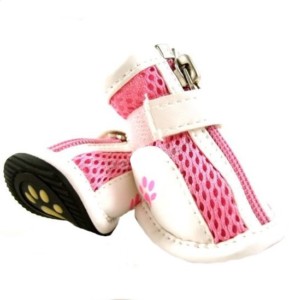 Summer Kixx dog booties are a great looking dog shoe. They're not only easy for the dog to wear but are also very easy to put on, making them the ideal beginner shoe. Your dog will have little time to get stressed because before the dog knows what's going on, the shoes are on the dog. Summer Kixx are available in pink or blue mesh and are available for small and larger dogs. Theses shoes are lightweight, comfortable and very stylish. The ventilated mesh fabric keeps their feet cool in the summer months. If you and your dog spend a lot of time walking out and about, your dog will be stylish. Summer Kixx also have these features.
• Velcro ankle straps keep boots on securely
• Faux leather with paw print design
• Protective tongue and zippered front
• Ventilated lightweight mesh ideal for summer wear
• Anti-slip rubber sole
• Extra cinching and interior elastic in ankle area help keep boots on tightly
• Come as a set of four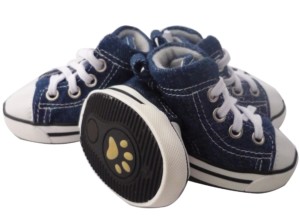 If you love style and want your dog dressed in style, you'll love the Zoomies. They come in your choice of pink or blue canvas. These booties are constructed with sturdy fabric that will last a long time. These hi-top "Converse" style dog booties are fun, fashionable and extremely great looking. They secured by laces that go all the way to the top, so the shoes don't need ankle straps or Velcro. A simple tightening of the laces, tying a bow, and your dog is set to go make a fashion statement. Other features of the Zoomies include the following.
• Breathable soft canvas denim have cushioned inner fabric
• Blue or pink with white laces
• Anti-slip rubber sole
• Come as set of four
• Provide ultimate comfort and protection against weather elements
To purchase any of the dog boots listed above, please visit www.alldogboots.com.  Feel free to contact us with any questions.  Have a tail wagging summer!