You want to go on vacation, but you do not want to leave your dog behind. You are traveling a long distance, and you do not want to drive. Flying with your pet is a viable option for some, provided it is done correctly and safely. Here are some tips for flying, or not flying, with your beloved four-legged family member.
Should Your Pet Fly?
Dogs that are too large to fit in a carrier, tucked safely under your seat should not fly. Many veterinarians and humane organizations warn against allowing your pet to fly in an airline crate in cargo hold. Since March 2007, when official records
began being kept, 17 pets were lost and 49 died during air transport. There are times when flying cannot be avoided. When this is the case, there are some safety tips to follow.
Flying Advice
Any puppy or dog that is able to fit in an airline-approved carry-on kennel should be flown alongside you in the cabin. This way, you can feed and water your dog as often as necessary. You can also be sure that the experience is a pleasant one for your animal.
When booking your ticket, look for a non-stop flight. Early-morning and evening flights will ensure that the temperatures on the tarmac are not too high for any pet that is forced to fly in cargo. If you must book a flight with a layover, know exactly how your pet will be handled.
The crate you choose should be large enough for your dog to stand up, turn around, and lay down in comfortably. Secure the corners and door of the crate with zip ties to ensure maximum safety. Zip ties are better than padlocks or other metal fasteners because they can be cut quickly in an emergency.
Start preparing your pet for the flight by getting it used to its new carrier at home. Feed and water your dog in its carrier, and be sure to give it plenty of treats when it behaves in a calm manner. Try to spend at least a month getting your pet used to its new crate.
Before you travel, be sure that your pet has the proper identification. Your dog should be microchipped and registered with the microchip company. Your dog's collar should have a permanent ID tag with its home address, and a temporary ID tag with the address of your destination. Keep in mind that these identifiers are the minimum suggestion. The more identification your pet has, the better.
Booking the Flight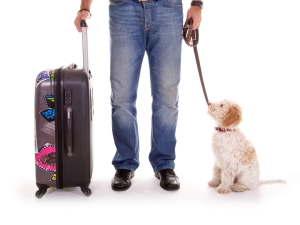 Each airline has its own requirements when it comes to the types and size of pets permitted to fly. Check with several of the airlines that service your destination to find out their requirements. Some airlines permit larger dogs in the cabin, and some airlines will not permit certain breeds of dog aboard their planes at all.
The airline representative will also be able to tell you what veterinary information will be necessary, and the representative can tell you what type of carriers are approved. Be sure that you ask about any special fees or ticket prices that you will be charged for your animal. Always find these things out months before your planned departure so that you have time to prepare.
Private Charters
If you have the financial means to do so, a private charter may be just what you are looking for. There are several companies that offer this service, and your pet will be permitted in the cabin with you regardless of its size. If you have the budget for this type of travel, both you and your pet will be much happier during your flight.
Traveling with a pet takes forethought. If you hope to ensure the safe arrival of your dog, you need to make the proper preparations. Flying with your pet can be a positive experience if you make it so.