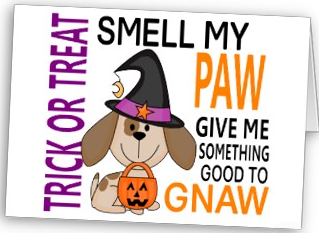 Can't decide what your canine comrade should be for Halloween? Forgot to run out to the store? Follow these easy tips for creating your own doggie Halloween costume!
1. It's a bird, it's a plane, it's a… dog? Cut up an old white T-shirt into a square with two fringes hanging off the top of the sides. Use fabric makers to draw your favorite superhero's logo on the cloth square. Tie the fringes around your pup's neck and pair it with Meshies by Barko Booties of a hero's signature color!
2. Slip a neon headband onto your pet's torso and tie up their hair into a pony with a bright colored hair tie. Finish off the look with a cute pair of doggie legwarmers and transform your canine into an 80's aerobics dog!
3. An easy yet cute way to crack your friends up is to dress your dog up as a cat! Take a thin headband and two diamond shaped pieces of paper. Fold the pieces in half to make 2 equilateral triangles. Slip those onto the headband and tape where necessary to make homemade cat ears!
4. Back to the good ole days… Your dog will look absolutely adorable clad in a diaper and baby bonnet.  To make the ensemble even cuter, try pairing it with Casual Canine Yellow Duckie Dog Slippers!
5. Support your football team with this fan favorite. Slip a stuffed animal T-shirt on your pooch and decorate it like a football jersey. Draw a team's logo or create your own!
Whether your dog is Superman or at the Superbowl, make sure to have a happy and healthy Halloween.
Save
Save